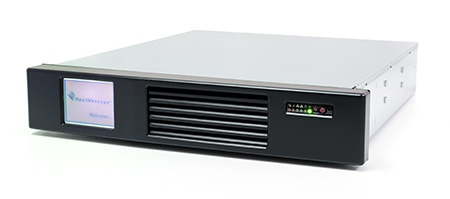 W

avify NextMessage
appliance provides a complete collaboration system for your business users. Combining multi-mailbox messaging, distributed task management, calendar, and more — along with remote and mobile access in one total turn-key solution. Wavify NextMessage appliance can form a secured private cloud infrastructure, bringing enterprise cloud collaboration inside your organization perimeter.
All-in-one Cloud Collaboration Appliance
Wavify NextMessage is your enterprise cloud collaboration in a box. Our appliance can be set up in a few minutes and immediately become foundation for your collaboration platform. A platform is a perfect combination of task management, email, calendar, and contact services that comes ready with web-based administration interface.
Enterprise Mobile-First, Cloud-First Collaboration
Wavify NextMessage is based on Wavify Crossflow, our distributed enterprise mobile collaboration technology. Crossflow enables you to collaborate through range of devices: Apple iPhone, iPad, or using Web from desktop/laptops, whether you are online or offline.
---
Professional Business Communication with Email, Contact, and Calendar
Unified Multi-Mailbox Messaging
Unified Multi-mailbox Messaging means you can check and manage your normally separated team, work, and personal mail accounts within one combined email interface. You can response, follow and even convert mails into tasks from a single place.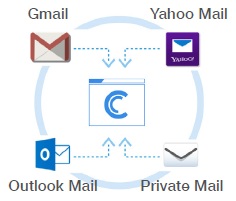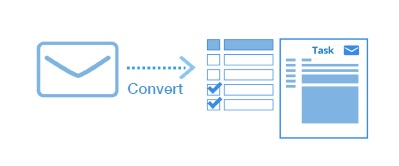 Convert Email to Task
Your inbox is where next-generation collaboration starts. Right from your inbox, convert your email into task, share with your colleagues, follow, discuss, and get your work done in inventive way like never before.
Calendar for Team
With shared calendars, everyone in the organization can visualize their colleagues and work schedules, including task-related dates. This enables you to create enterprise-centralized calendar to manage your organization schedule.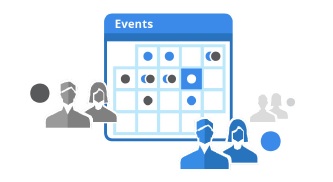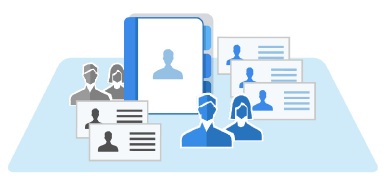 Shared Address Book
Centralized address book detaches the contact information important to your business, allowing shared party the access to customers, partners, and suppliers contacts and locations.
---
Task Management – Next Generation Collaboration
Collaborate. Manage. Achieve.
Manage your workflow through our advanced task management that lets you see the overall status of the progress. Assign, follow, discuss, and add information to tasks to guide team members along the workflow, helping them stay focused and productive.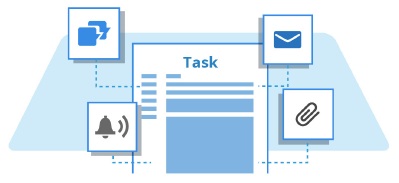 Design Your Flow
Converting items into tasks is a great starting point to build the suitable workflow for your organization. Starting simply enough with tasks, emails, and web forms, you can organize tasks according to states and orders you prefer.
Deploy Your Own Cloud Collaboration
Dropship Deployment
Wavify provides our unique Dropshop deployment methodology combining with cloud management, allowing you to set up your Wavify NextMessage and Crossflow collaboration environment effortlessly. Once in place and connected, NextMessage appliance would automatically synchronize the preset configuration from Wavify's management cloud almost in a plug-n-play fashion. Our dropship service also includes a replacement support case. In such case, Wavify team will ship you a new appliance which would download your back-up data and configuration from Wavify Cloud as soon as it is installed on premise.
---
Cloud Availability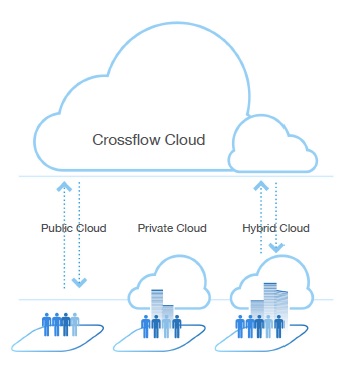 With hybrid cloud architecture, Wavify NextMessage provides business continuity from its redundancy distributed data model. Such architecture enables the data in both your appliance and cloud server to synchronize in real-time. Therefore, you will always have platform availability through redundancy of data service that can be switched seamlessly between on-premise and cloud data infrastructure.
Wavify NextMessage deployment is tailored to suit the need of your organization. Public Cloud deployment offers high durability and accessibility, Private Cloud emphasizes on your organization's security and privacy needs, Hybrid Cloud (, while being very cost-effective, maintains high availability and disaster recovery supports. For extra availability, NextMessage Redundant Private Cloud deployment offers enterprise active-standby to improve on both platform security and robustness.
---
Cloud Security
Wavify NextMessage encrypts every message in the platform to secure user's data whether the data are originated from either web or mobile application. While Crossflow email application is already equipped with essential Email Security, the platform also allows you to integrate with well-known 3rd party email security applications to fortify your email server further.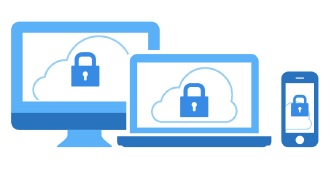 ---
Granular User Permission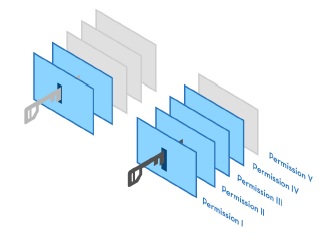 Utilize both role and group based access control, NextMessage allow you to flexibly manage application quota usage and permission. Manage your employees' permission granularly to control data visibility in your organization hierarchy structure in just a few steps.
Wavify NextMessage Appliance Models
Wavify NetxtMessage appliances provide enterprise cloud collaboration systems that enable flexible internal and external communication and workflow for organizations. With flexible deployment options, Wavify NextMessage can be deployed as public cloud, private cloud, hybrid cloud or redundant private cloud depends on security policy and business demands.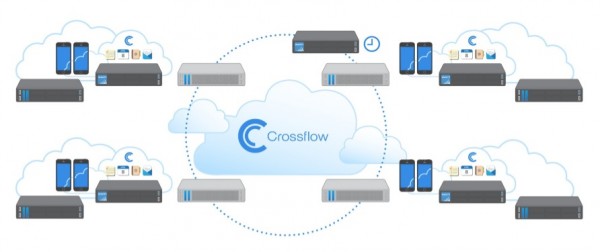 On-premise Appliance Models
NM500 – Up to 500 users. Up to 5TB production storage and 10TB backup storage. 2x 10/100/1000Mbps network interfaces. 500 mailbox licenses included. Optional task management license.
NM1000 – Up to 1,000 users. Up to 10TB production storage and 20TB backup storage. 2x 10/100/1000Mbps network interfaces. 1,000 mailbox licenses included. Optional task management license.
NM2000 – Up to 2,000 users. Up to 20TB production storage and 40TB backup storage. 2x 10/100/1000Mbps network interfaces. 2,000 mailbox licenses included. Optional task management license.
NM4000 – Up to 4,000 users. Up to 40TB production storage and 80TB backup storage. 2x 10/100/1000Mbps network interfaces. 4,000 mailbox licenses included. Optional task management license.
NMX – Custom appliance by customers' demands.
Additional Appliance Models
CloudFabric Appliance LB500 – 1U cloud load balancer appliance. CloudFabric enables high availability and disaster recovery for all Wavify NextMessage services.
CloudOffloader Appliance F10 – 2U cloud file transfer offloader appliance. CloudOffloader provide scale-out and scale-up storage capacity for all attachments in Wavify NextMessage services. 10-30TB production storage with built-in cache.
Cloud Service Options
Wavify Crossflow Cloud Service options are hosted cloud collaboration services for all size of companies. Choose your own number of users, storage capacities, domain names and level of availability. Wavify will build the hosted system for you and let you administrate your own cloud collaboration.
Please contact Wavify sales for more information or price quotation.