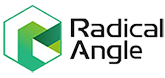 Radical Angle is part of Wavify, a collaboration solution company located in the heart of Silicon Valley. Radical Angle acquired a 3D virtual set technology and intellectual properties from ISLT Lab, a robotic vision specialist, in early 2013. Radical Angle aims to adapt robotic vision technologies to create a next generation broadcast tool that utilizes power of 3D graphic advancement in the past 20 years.

Radical Angle allows everyone to create CNN's quality 3D virtual programs
RadStudio is a paradigm shift Digital Broadcast Production solution from Radical Angle. RadStudio is a proposed-built turn key computing appliance for creating a full featured digital broadcast studio environment. RadStudio can be operated with minimum resource and personnel comparing to traditional screen set approach. The system has been specially designed to generate CNN quality broadcast content using proprietary precision robotic vision technologies. The result content is a real time immersive 3D virtual reality, which has visual quality surpassed the result from physical broadcast system with traditional green screen.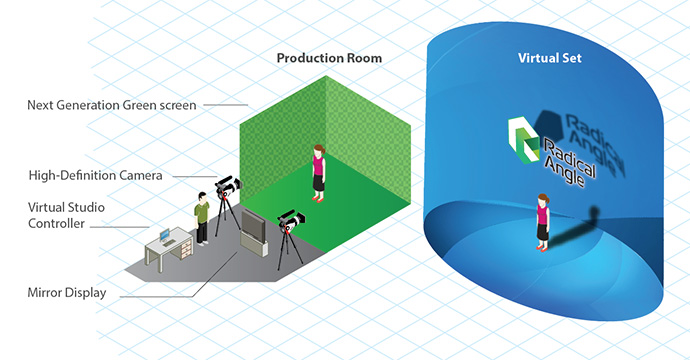 Features Overview
Virtual Studio Production
Real-Time production capable
Live preview with real-time camera pose matching CG scene
User-friendly GUI with joystick control for virtual camera manipulation
Camera Tracking
Proprietary image processing based solution; No special-purposed tracking sensors required
Full camera motion tracking with complete 6 degrees of freedom
Low process latency: 7 frames tracking delay
Hand-held camera compatible
Tracking log recorder for post-production
CG and Composition
Advanced chromakey function specially designed for digital video
DirectX based scene renderer with full GPU utilization for maximum performance
Supported real-time rendering options:  dynamic light, multi-texturing, bump map, environment map, shadow map, glow, HDR, fog, reflection
Proprietary automatic shadow construction and color correction for seamless composition
Virtual Scene Management
Interactive scene editing with user-friendly GUI
Supported 3D object formats: 3ds, DirectX Mesh, Google SketchUp
Animated object supported
For more information, please visit http://www.radangle.com/